Isle of Man gets more seasonal flu vaccines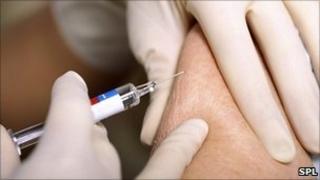 The Isle of Man's Department of Health has secured a small supply of the seasonal flu vaccine.
Earlier this month, the department said batches of the vaccine were "scarce" but denied there was a shortage.
In the meantime it released 3,000 doses of the vaccine Pandemrix, which protects against H1N1, swine flu.
Health officials are deciding how best to distribute the new jabs but are urging those not in at-risk groups against vaccination.
"We need to conserve the small supply of vaccine to protect those who are at greatest risk," a spokesman said.
The department is trying to increase the supply but "this is far from certain at present", he added.