Research space stations arrive on Isle of Man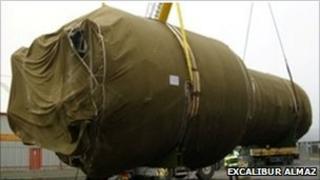 Two research space stations, owned by a space exploration and tourism company, have arrived on the Isle of Man.
Island based Excalibur Almaz will use the stations for research, testing and could eventually be sent into space.
Each of the stations, which are being kept in an aircraft hanger at Jurby airfield, is 36ft (11m) long and 13ft (4m) in diameter.
The machines which were imported from Russia are similar to those used at the International Space Station.
Tim Craine, director of the government's business development agency said: "Bringing the two Almaz Space Stations to the Island is evidence of the Island's growing profile and reputation in the space world."