Police warning over contaminated heroin on Isle of Man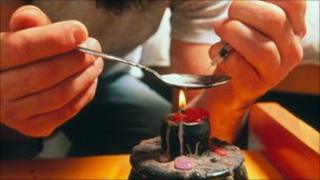 Manx police are warning that a shortage of heroin has led to a number of users taking dangerous alternatives.
Police say users have needed hospital treatment after taking what they thought was a small amount of heroin.
The drug was subsequently found to contain powerful sedatives, large amounts of caffeine and paracetamol.
Shelly Stanley, from the drug advice service, said: "This substance is an unregulated product and is subject to no controls whatsoever."
She added: "Dealers do not intentionally set out to kill-off their customers but the risks are high when mixing sedatives with heroin."
Police believe there is currently one of the most severe "droughts" of heroin for five years.
A spokesman said: "The shortage is due to a fungus that has infested this year's poppy crop in Afghanistan, literally reducing it by half."
All heroin users are advised to seek help from the Isle of Man drug helpline.