Crash warning for drink drivers on Isle of Man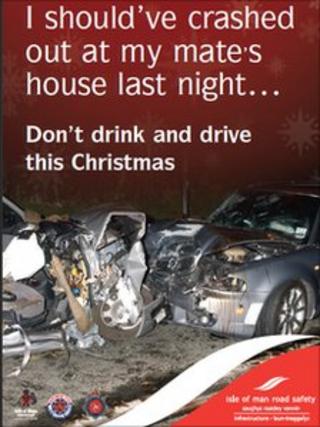 Police on the Isle of Man have launched a campaign to warn motorists of the dangers of drinking and driving over the festive season.
The campaign features graphic images of a crash scene in an attempt to deter people from taking risks.
The pictures are accompanied by the slogans - "I should have crashed out at my mates house last night" and "Think of the mourning after".
The images will appear on petrol pumps, shop receipts and even wage slips.
Head of the Roads Policing Unit from the Isle of Man Constabulary, Insp Mark Britton, said: "The impact of drinking and driving is very high and this year's campaign focuses on that.
"The Constabulary will be taking a robust line on drink driving. The key message you should have crashed at your mates clearly highlights that there are consequences to drinking and driving.
"These consequences spread further than the offence itself. As a community I urge people not to drink and drive."
The penalties for drinking and driving are severe and include a fine of up to £5,000, a disqualification and a possible prison sentence.
Any driving ban enforced on the island will also apply in the UK.