Local group says crime bill 'threatens freedom'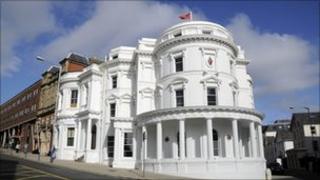 The new criminal justice bill could "threaten the freedom" of Manx residents, according to the Positive Action Group (PAG).
The island-based campaigners have arranged a public meeting to consider what impact the legislation would have on island life.
The controversial bill divided opinion in the House of Keys this week.
Roger Tomlinson from PAG said: "We all value our freedom, especially in the Isle of Man."
He added: "When government brings in legislation that threatens some of those freedoms it is inevitable that there will be much public concern."
The six chapters covered by the bill include police powers, licensing, sex and drug offences, public order and other issues.
Home Affairs Minister Adrian Earnshaw claims the bill is about "modernising" policing powers.
He said: "We live in an internet age these days and it needs to reflect some of that, things move a lot faster in the world of the internet.
"The oldest act we are amending goes back to 1872, nothing stands still and I think it's important we recognise this and we keep our legislation as up-to-date as required for the climate we live in."
However, there are some people who feel the new bill would give police too much power.
The Positive Action Group meeting will be held at the Manx Legion club at 1930 GMT on 29 November.