Queen names Adam Wood as new Isle of Man governor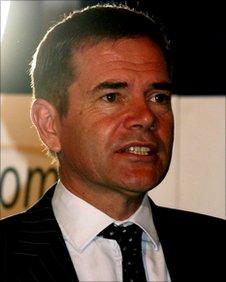 A former chief of the UK's diplomats in Africa has been named as the Isle of Man's new lieutenant governor.
Adam Wood will succeed Vice Admiral Sir Paul Haddacks who steps down in April next year.
Mr Wood recently retired from the British Diplomatic Service after a distinguished career in diplomacy and international development.
His final post was Africa Director at the Foreign and Commonwealth Office, managing Britain's African Embassies.
He was British High Commissioner in Nairobi, Kenya, from 2005 to 2008, having previously served as High Commissioner in Kampala, Uganda.
The Oxford-educated father-of-one has also worked in Brussels, Bangkok and Washington.
Two other senior posts were announced on the Isle of Man on Tuesday.
Government Advocate Stephen Harding has been appointed to succeed John Corlett QC as the island's Attorney General when Mr Corlett retires in April next year.
While Deemster David Doyle has been named as First Deemster and Clerk of the Rolls, succeeding the late Deemster Michael Kerruish QC.
Deemster Doyle, who has been Second Deemster since March 2003.
Related Internet Links
The BBC is not responsible for the content of external sites.