Scottish fleet banned from Manx waters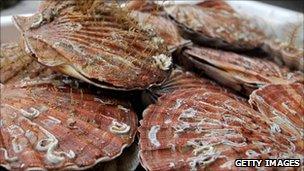 An entire Scottish fishing fleet will have to fish elsewhere after being banned from Manx waters, according to the Scottish Fisherman's Federation.
Chief Executive Bertie Armstrong says a new Manx Bye-Law, designed to protect local scallop stocks, has excluded about 20 Scottish fishing boats.
The legislation prevents boats above a certain size fishing in Manx waters.
Mr Armstrong said: "The science behind this decision is badly skewed and does not address sustainability."
He added: "Big boats don't actually do more damage than small boats - there is no science to prove this. Manx vessels are still allowed to fish in Scottish waters so this decision seems extremely unfair."
The Isle of Man government has also banned new boats with engine power greater than 221Kw and any dredges with tooth bars.
Minister for Environment Food and Agriculture John Shimmin said: "The area near Peel which was targeted by fishermen last year is now thought to be devastated. We believe what we have done is right for the sustainability of our fishing industry.
"Those boats which have historically fished in our waters have been granted grandfather rights to allow them to continue fishing here."
The government says anyone who breaks the law can be fined up to £50,000.
Related Internet Links
The BBC is not responsible for the content of external sites.