Seagulls found coated in oil in Isle of Man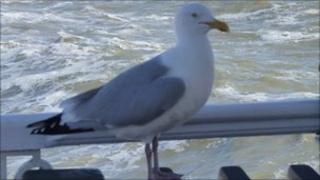 More than 40 seagulls have been found coated in oil on the Isle of Man.
The birds, which were unable to fly away, were found stranded on land behind the House of Mannanan in Peel on Thursday.
They were caught and taken to be bathed by the Manx Society for the Protection of Animals (MSPCA).
MSPCA Welfare Officer Jenny Corran said efforts were being made to find the source of the oil, which had affected the birds' plumage.
"We're not too sure what it is, tests are being taken at the moment," she said.
"It smelt very much like cod liver oil that was on them and when some of the seagulls went in the water they weren't able to float very well.
"Some were struggling, and when we went to catch them they weren't able to get off the ground, so it had really affected their feathers."