The Summerland site is to be put on the market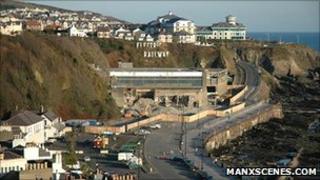 The Summerland site is to go on sale after Manx government attempts to find a private development partner failed.
The site on King Edward Road in Douglas has remained unused since the complex was demolished in 2005.
Many suggestions have been put forward by members of the public about what the site should now be used for.
Minister for Community, Culture and Leisure David Cretney said "Value for money can best be achieved by disposing of the site on the open market."
He added: "To maximise this value, the department will be seeking outline planning permission for residential use."
Douglas Corporation bought the site in 1964 and developed it as the Summerland Complex which opened in 1971.
Two years later fire swept through the complex killing more than 50 people.
The Summerland disaster led to a major change in fire regulations on the Isle of Man and in the UK.
It was rebuilt in 1976 and reopened in 1978.