Emma Thompson's banter about the IOM treated as joke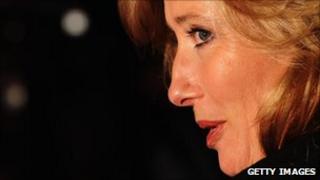 Emma Thompson's recent comments about the Isle of Man are being taken in the spirit they were intended - as a joke.
In a TV interview, the 51-year-old actress spoke about the Isle of Wight but later admitted she had confused it with the Isle of Man.
She said islanders were allowed to shoot Scottish people and homosexuals were still 'flogged' in the island.
A spokesman from the IOM government said: "She was obviously joking, we are not taking her comments seriously".
But the government added: "For the record, the Isle of Man's exceptional quality of life is enjoyed by a wide variety of residents and visitors, including a number of Scots".
While Douglas Member of the House of Keys (MHK) Bill Henderson was not offended by Ms Thomsons' comments, he was surprised about the geographical confusion.
"Emma's light-hearted banter is quite funny but when people confuse the Isle of Man with the Isle of Wight I am always a little alarmed. The two islands are hundreds of miles apart."
He said the myth that homosexuals could be flogged in the island was the kind of thing the UK media drags up when referring to the island.
"What people need to know is that human rights legislation in the island is not only in line with the United Kingdom but in some cases ahead of it".
Representatives for Emma Thompson declined to comment.