Isle of Man dentist shortage 'unworkable'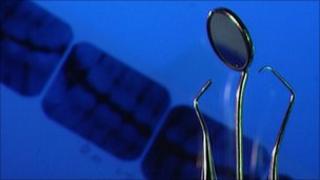 The Isle of Man government is reducing dental services in two Douglas clinics because of a lack of dentists.
After the loss of several practitioners, a spokesman from the Department of Health said the workload was now "unworkable".
Changes at the Central Community Health Centre and the Hillside Clinic now mean priority will be given to urgent cases.
The move means some patients in the island will have to wait longer between routine check ups.
Health Minister David Anderson said: "This is simply a matter of presently being unable to fill vacant posts, which sadly is a familiar problem throughout the UK.
"The department is committed to securing the future of NHS Dental Services for the people of the Isle of Man and I wish to reassure patients that we are working hard to do this".
Brian Hewitt, a dental practice manager in Douglas, said he believed delays to check ups could have a detrimental affect on patient's dental health
He said: "Dentists can see things and inspect the mouth with instruments and x-rays which you can't see looking in a mirror or you might not be aware of brushing your teeth.
"The statement that this won't affect dental health care is, in our opinion, just rubbish".
The Department of Health has commissioned an independent review of the salaried dental service.