Bronze age violent death investigated at museum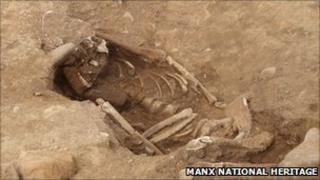 The mystery of a violent death on the Isle of Man 3,000 years ago is the subject of a new exhibition.
Artefacts unearthed with a bronze age skeleton at Ronaldsway will be on display at the Manx Museum in Douglas.
Initial studies suggest the man could have been the victim of crime, a sacrifice or even a battle casualty but historians are still open to opinion.
Museum curator Allison Fox said: "Post-excavation work is ongoing so we would like to hear what visitors think".
Items on display include the original arm band found with the skeleton and two carved stones from the period.
Excavation at Ronaldsway airport took place in 2008 when construction teams working on the new runway came across historical remains.
'Puzzling death'
The subsequent discoveries have been among some of the most important found on the Isle of Man.
Ms Fox added: "This exhibition gives us the chance to talk in more detail about one of the most interesting periods of Manx history.
"We are still puzzled why this man died but we hope people will leave the exhibition asking themselves questions about life in the Bronze age".
The Manx National Heritage exhibition opens on 18 September and admission is free.