Isle of Man firms 'lead Euro space race'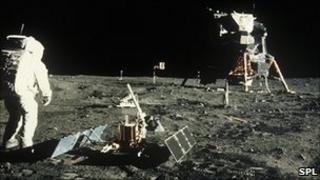 The Isle of Man has been ranked as one of the most likely nations to next get its flag on the moon.
Industry analyst Ascend rated the island's space firms as 50-1 to win the race back to the lunar surface, behind the USA, China, India and Russia.
It cites the growing number of Manx space tourism firms with interests in manned lunar flyby flights as evidence.
Despite Barack Obama's cancellation of a Nasa programme to design new moon rockets, the USA remains favourite.
Its even odds were ahead of nearest rivals Russia (3-1), China (5-1) and India (33-1).
The Isle of Man ranked fifth on 50-1, ahead of the United Kingdom (300-1) and Iran (1,000-1).
Government officials hope the ranking will lead to further investment in the island's burgeoning space industry.
Tim Craine, director of space commerce, said: "This recognition is most welcome and continues to be a team effort via our unique public private partnership with ManSat to build the space industry here at home."
ManSat is a company, working in partnership with the government, which offers consulting services to the commercial space industry.
Chairman Christopher Stott said: "We've a long road ahead of us still, but this recognition is most welcome.
"Our work in building this new industry on the island is international in nature and often goes unseen at home."