Manx crash police officer family pay tribute to him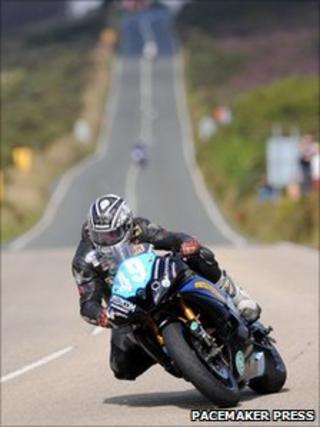 The family of a West Midlands Police officer who died in a motorcycle crash during a race on the Isle of Man have paid tribute to him.
Chris Bradshaw, 39, from Tamworth in Staffordshire, collided with Royal Navy member Jamie Adam, 28, from Prestwick.
The men were on the second lap of the Junior Manx Grand Prix (MGP) on part of the course known as Alpine Cottage.
Mr Bradshaw's family said he died "pursuing the hobby he loved" and would be sadly missed.
'Highly skilled'
In a statement his family said: "Chris died pursuing the hobby he loved, motorcycle racing, and was committed to enjoying his passion and sharing it with others; through racing on the Isle of Man since 2003 and instructing riders through the Institute of Advanced Motoring and the Bikesafe scheme."
West Midlands Police said Mr Bradshaw had served as a police officer since 1992 and had performed duties across the West Midlands and Leicestershire forces.
Supt Rick Burgess said he was a "committed and highly skilled" officer.
He was an experienced police advanced motorcyclist and one of the most highly-qualified police motorcycle riders, he added.