Fire destroys motor repair yard on Isle of Man farm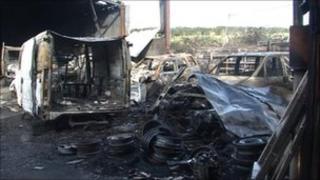 More than a dozen vehicles have been destroyed in a fire at an Isle of Man motor mechanic's yard.
Thirty firefighters tackled the blaze, which spread to two buildings on the St Mark's farm where the business is based.
The Isle of Man Fire Service said that the fire started in a vehicle during a welding repair.
No-one was hurt, but heavy smoke and fumes and a lack of water hampered efforts to contain the flames.
'Work hard'
Alan Gawne, of the Isle of Man Fire and Rescue Service, said: "A gentleman had been working at a vehicle recovery yard. He'd been doing some welding but during that process a vehicle caught fire and began to spread.
"Most of his stock has been destroyed, the buildings have been damaged and he won't be able to work out of them for a long time."
"It was very intense in the initial stages of the fire and could be seen from some distance because of the plume of smoke.
"The crews had to work really hard to try and knock this down, contain it and try to get the water in here to stop it.
"We had to get a water infrastructure in place before we could really fight the fire and we'd been carrying water quite some distance to this site and that took a lot of time and a lot of people."