Isle of Man heritage sites to be opened to public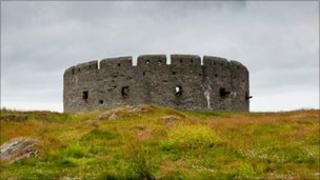 Three historical sites in the Isle of Man which are normally closed to the public will open their doors to visitors next month.
Derby Fort and St Michael's Chapel on St Michael's Isle, and Knockuskey Cottage at Niarbyl will be open on 12 and 13 September.
And the Old House of Keys in Castletown will open from 9 to 12 September.
The sites are owned by Manx National Heritage which is taking part in the Europe-wide Heritage Open Days scheme.
Admission is free at each venue, but visitors will be encouraged to make a donation.
Dr Andrew Foxon said: "We have picked a trio of special sites as our contribution to Heritage Open Days: ones which many people will know from the outside - but fewer will have seen from the inside.
"We hope these sites captivate the imagination and give an added sense of the depth and quality of history we have on the island."