Three spotted on Isle of Man's Tower of Refuge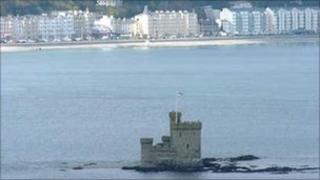 Douglas Coastguard were called to the aid of three people who were spotted at an Isle of Man landmark on Sunday.
The three were seen by coastguard staff on the Tower of Refuge, half an hour after low tide.
Douglas Lifeboat and a coastguard mobile patrol were sent to the scene and found the three people wading ashore through chest-deep water.
They returned safely to shore and the coastguard said they were unhurt but very wet and cold.
The tower was built on Conister Rock in Douglas in 1832.
It was the idea of Sir William Hillary, founder of the Royal National Lifeboat Institution, and was designed as a shelter for the crews of vessels which were wrecked on the nearby reef.