Guernsey's housing 'crisis' forcing people to leave the island
By John Fernandez & Adam Durbin
BBC Guernsey
Guernsey is in a housing "crisis" with many people unable to afford property to buy or rent, and some being forced to move away.
Rapidly escalating prices, minimal space for building and a lack of social housing have conspired to create the situation.
The average house now costs more than £500,000, which is more than London.
We have been speaking to those finding life difficult, and those trying to find a solution.
Graphic designer Dan Gallienne is one of those who believes his best option is to leave Guernsey, after being forced to move out of his home so his landlord can sell.
Unable to buy or find an affordable place to rent, the 27-year-old is sad and frustrated he and his partner are being forced to move away.
Mr Gallienne described the market as "absolutely insane" with reasonably priced properties "snatched up in no time" and remaining homes "ridiculously overpriced".
He said: "Sadly most of my friends have already moved away.
"There are a few family members that are in this situation, as much as they like the island, it's just more sensible to move."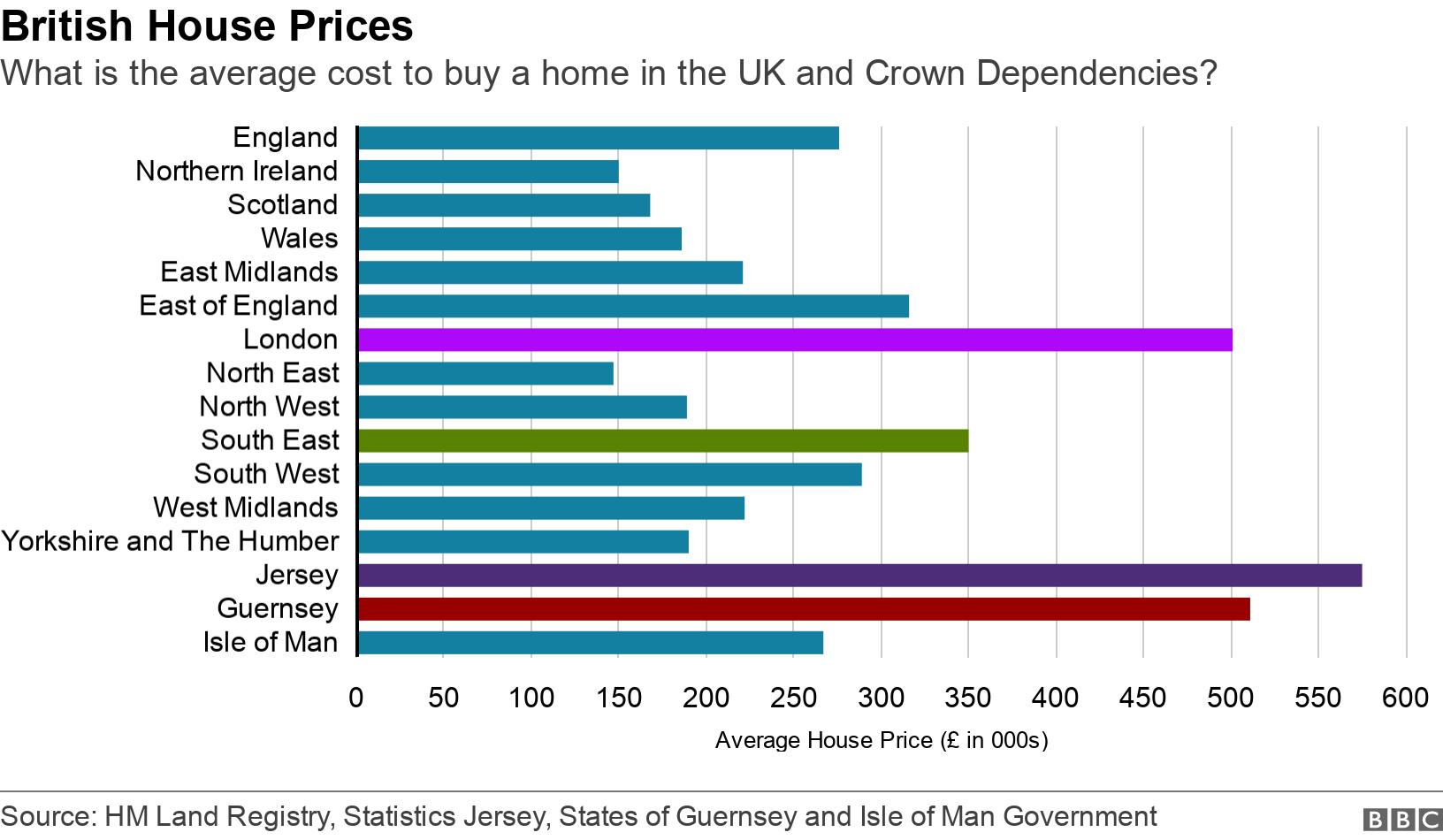 'Half the price'
Deputy Peter Roffey, the politician in charge of the States of Guernsey's social housing stocks acknowledged the growing "crisis" in the market, with demand far outstripping supply.
The average house price in Guernsey reached £510,000 in March while rental properties climbed to nearly £1,500 a month, according to States of Guernsey figures.
This is a rise of £85,000 to purchase and more than £170 to rent in two years.
It also places the island among the most expensive property markets in Britain, more than double the £256,000 average price in the UK - higher even than the notoriously expensive London market where the average place is £500,000.
Only Jersey is more expensive in the British Isles, with their house prices reaching £574,000 last month.
Mr Gallienne is one of a number young professionals, both those living in Guernsey and those moving for work, who are looking elsewhere to get on the property ladder.
He said: "We're not willing to spend £500,000 for an average property when we could buy elsewhere for half the price and with much more space.
"It's really sad to think I've been here the majority of my life and we're going to have to move away just because it's too expensive."
Affordable housing
About 10% of homes are classified as affordable by the States of Guernsey, who describes them as "property that's reserved for certain groups of people who can't afford to rent or buy property on the private market".
Nine out of ten of these homes are social housing, which accounts for 1,650 properties.
These are administered by the States and the Guernsey Housing Association (GHA), who have spent about £154m on 651 new properties over the last 10 years.
Currently, there are 184 people on the waiting list to be housed, with 62 applications pending.
Of the four applicants housed in one bed accommodation in April, the average waiting time was around 16-months.
The minimum wait time for a GHA property is nine months, with applicants for their shared ownership scheme waiting around four years.
Chief executive of the GHA Steve Williams said they had met the building targets set by the States in recent years, but market changes meant more must be done.
He said: "But it's not a quick overnight process being able to produce a lot of new homes.
"From locating suitable land it often takes four to five years to go through securing the land, obtaining planning and then construction."
Estate agent Cathy Gallienne said the crisis was being driven by demand far outstripping supply, exacerbated by the coronavirus pandemic.
She explained people wanting move or return to Guernsey because of the lack of restrictions, couples separating in the two lockdowns and people working from home wanting to move to larger spaces combined to fuel the situation.
The explosion in the price has also lowered rental availability, with many landlords opting to sell as the market reaches record highs, she said.
Ms Gallienne explained they often get in excess of 30 offers from prospective tenants as soon as places are advertised.
She said: "We've let properties where people haven't even seen them."
Guernsey has strict rules on how much social housing residents can earn annually, ranging between £25,000 for a single person and £60,000 for a family with three or more children.
They are also capped on the amount of savings they are permitted, between £39,000 and £69,000 for the same household sizes.
Given the cost of homes, obtaining a mortgage for suitable properties without savings in excess of these thresholds is very difficult.
'Kept on breadline'
Carpenter Shane White-Saunders has lived in social housing for over 10 years, unable to afford to buy or rent privately.
Changes to the social security system, stagnant wages and inflation in that time stopped him from being able to build up any savings, he said.
The combination of lockdowns and an accident at work have left him entirely dependent on income support.
Mr White-Saunders said he was probably too old to be able to escape the "flawed" system, arguing people were "effectively being kept on the breadline" by the rules.
"You'd have to really have started saving from 18 or maybe even younger," the 36-year-old added.
'A war footing'
The politician in charge of social housing said addressing the ongoing "crisis" in the housing market is one of his "highest priorities".
Deputy Peter Roffey said he acknowledged the problems were caused by insufficient supply in either private or social sectors to meet demand for homes.
The president of the Committee for Employment and Social Security explained it went beyond "just about giving people shelter" and was a "crucial economic issue".
He said they were in the process of setting up a taskforce and argued the island needed to be put "almost on a war footing" to address the shortage.
"If people can't afford to live in Guernsey and have to stay with mum and dad until they're 38, they're not going to do that.
"They're going to decamp and live somewhere else and we're already facing a shrinking workforce, so that's the last thing we can afford."
The BBC is not responsible for the content of external sites.