Covid-19: 'Non-essential' travel into Guernsey to be banned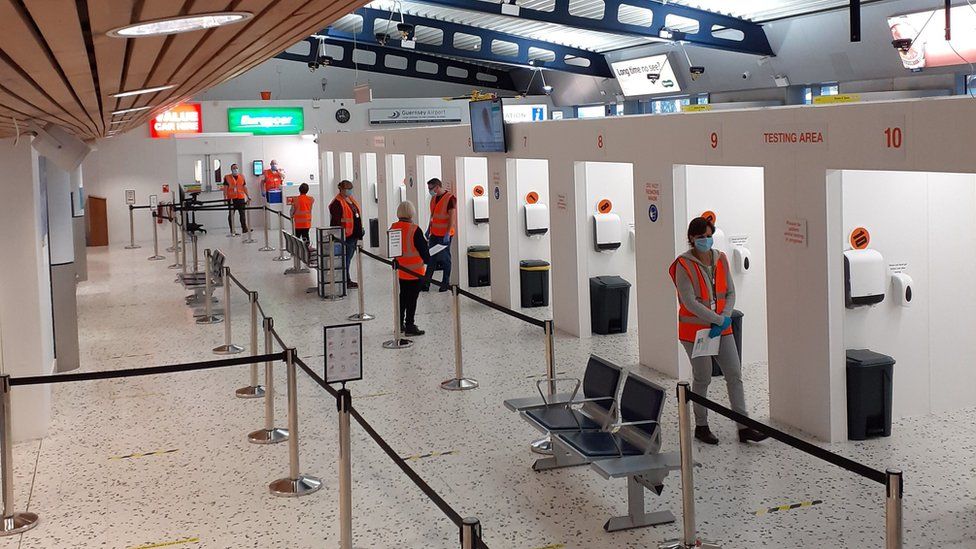 "Non-essential" travel to the Bailiwick of Guernsey will be banned by the Civil Contingencies Authority (CCA).
The laws needed to enforce the change are currently being drafted and will be brought into force "as soon as possible".
Travel to the UK for medical or compassionate grounds will still be permitted under the new rules.
Permanent residents of the Bailiwick of Guernsey can return and students can travel to attend education.
There are also exemptions for critical workers coming to Guernsey and "essential business" which cannot be done remotely, the States confirmed.
Essential travel does not include visiting friends and family based in the bailiwick or for workers not approved by the States as being critical.
The CCA explained the decision had been taken following the rising Covid-19 rates in the UK and elsewhere and the identification of a new, more transmissible strain of the virus.
States-owned airline Aurigny confirmed to the BBC it will be reducing its flights to three days a week between Guernsey and Southampton, but has not yet said when these flights will run.
The "bailiwick bubble" under which unrestricted travel between the islands is allowed will be unaffected by the changes.
Those who opt out of this testing regime must self-isolate for 21 days.
The authority's Chairman Peter Ferbrache said the border measures so far had been "extremely robust" and had "kept our community safe".
He confirmed the current restrictions are unchanged by the move to essential travel only and added arrivals "must still strictly abide by our self-isolation requirements".
Deputy Febrache emphasised anyone "planning to spend a bit of time" in Guernsey to visit or use the islands as a temporary base for work should "cancel your plans, do not travel here".
"We know the impact of even one case that enters our community undetected can have a serious impact on the freedoms we currently enjoy.
"We are not like other jurisdictions who are managing Covid within their communities, we want to preserve the very good position we're in," he added.
Related Internet Links
The BBC is not responsible for the content of external sites.