Three people attacked by dog near Saumarez Park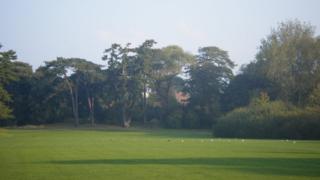 Three people have been attacked by a dog outside a park.
Armed police attended reports of a dangerous dog on the loose near Saumarez Park, Guernsey, at about midday on Thursday.
Police originally said five people had been attacked and taken to hospital, but later revised the figure to three.
Initial police reports said the attack happened in the rear car park of Saumarez, but they later confirmed it happened on Ruette de la Tour.
They said the dog escaped from its owner's property and made its way to the vicinity of the park.
Officers shot the dog on the advice of the States vet as it was behaving in an "extremely aggressive manner".
Another dog was seriously injured in the attack.
Guernsey Police said: "We would like to commend the brave actions of the public who intervened by restraining the dog as emergency services were en route.
"Their actions undoubtedly prevented further injury."