Export of live wrasse banned by Sark's government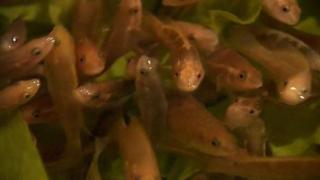 The Channel Island of Sark has become the first place in the British Isles to ban the export of live wrasse.
The fish has rocketed in value since being used to clean parasites off farmed salmon in Scotland - at the end of 2018 the cost of a single adult fish was £17.50.
The Angling Trust has been campaigning for the suspension of wild wrasse fishing in the UK.
The decision to implement the ban was made by Sark's government, Chief Pleas.
There has been a sharp rise in the use of wrasse which are housed in salmon cages to attack and eat parasitic sea lice.
Hatcheries are being used to breed wrasse, but it takes two years for the fish to become large enough to use and about six years before they reach sexual maturity and can breed themselves.
This has led to fears about the sustainability of wrasse.
Sark's decision has been praised by the marine conservation charity Open Seas.
Spokesman Phil Taylor said: "We welcome the news that this issue is being taken seriously by the government in Sark.
"We'd recommend other governments around the UK, including Scotland. move away from the current unregulated situation and follow the lead shown by Sark, by applying a robust management regime."