Alderney election: Newcomer tops polls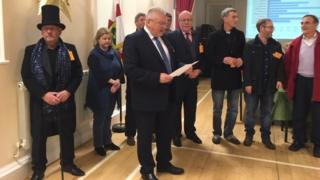 There were just seven votes between the top three candidates in Alderney's 2018 election.
Newcomer Annie Burgess, along with Christian Harris, Steve Roberts, Graham McKinley and David Earl were elected from 12 candidates in Saturday's vote.
Alderney, which is home to about 2,000 people, elects five of its 10 States members every two years. Each serves a four-year term.
Transport links, tidal power and its ties with Guernsey were all key issues.
On 17 December there will be another ballot to decide which two should represent the island in Guernsey's states.
New candidate Annie Burgess got the most votes in the election with 665, Christian Harris came second with 664 and Steve Roberts came third with 658 votes.
Other winning candidates were Graham McKinley on 445 votes and David Earl on 435 votes.
A by-election for outgoing member Tony Barnes, who stood down after two years, will also take place on 17 December.