Guernsey's free contraception scheme is 'enormous success'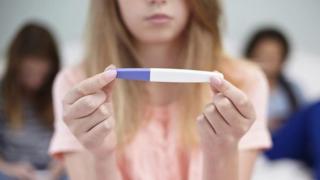 There has been a big reduction in teenage pregnancies in Guernsey, island health officials have said.
Early indications show a 75% reduction in less than a year, director of public health Dr Nikki Brink says.
It follows the introduction of a free contraception service last December for women under the age of 21 in Guernsey and Alderney.
"It has been an enormous success, and we're hoping to deliver very, very good results," Dr Brink said.
The States of Guernsey Health and Social Care said during between 2013-15, there was an average rate of 16.9 pregnancies per 1,000 women aged 15-17, compared with a "significantly lower" rate of 6.8 per 1,000 women in Jersey, which had free contraception.
It said when the programme was started, the aim was to halve the number of teenage conceptions by 2023, so the predicted 75% reduction in one year was "very significant".
The full data for the first year of the service will be analysed in January.