Guernsey's one-school, two-site plans revealed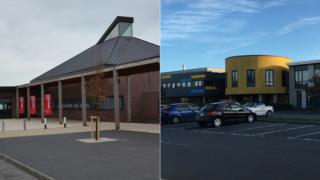 Fresh plans have been released for Guernsey's secondary education system.
The proposals from the Committee for Education Sport and Culture will see one school operate over two sites.
The two sites will be at Baubigny - the current St Sampson's High School - and at Les Beaucamps.
Students are currently taught across four separate schools, two of which will now have to be either repurposed or closed down.
Both of the proposed sites - which are currently in use as secondary schools - will need to have extensions built to hold a greater number of students.
Latest news from the Channel Islands
The new sites will operate as a single school, and both will include sixth form colleges.
The committee said the two chosen campuses are "conveniently located for their partner primary schools", and can "continue to operate during the construction period".
"Using the sites which currently have the highest standard of facilities removes the need to build a completely new school at La Mare de Carteret and to carry out extensive refurbishment of the Les Varendes site, which is nearly 35 years old."
The plans also reveal the future of Guernsey's College of Further Education, which currently operates over three separate campuses.
Under the new plans, the College of Further Education, the the Institute of Health and Social Care Studies and the GTA University Centre will all combine at Les Ozouets, St Peter Port.
The committee says the ultimate aim will be "partnering with a UK university to create University College Guernsey".
The plans will come before the island's government "by the middle of 2019", and in the meantime, the committee is planning to "work closely with the teaching profession and their union representatives".