'Unfair' electricity prices lowered in Sark after review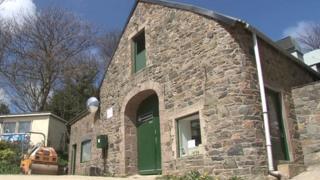 Electricity prices in Channel Island Sark will be lowered after they were found to be "not fair or reasonable".
Residents pay 66p per kilowatt hour (kw/h), compared to 17p per kw/h in nearby Guernsey, and an average of about 14p per kw/h in the UK.
Now Anthony White, island electricity price commissioner, has ordered the rate be reduced by 14p from Monday.
Sark Electricity, the island's sole power provider, said it would appeal against the "wrong" decision.
Mr White said the current "high price" would encourage "wealthier customers" to generate their own electricity, leaving those unable to do so paying increasingly higher prices.
"I have reason to believe that lower prices will encourage demand for electricity to recover towards the levels experienced at the start of this decade," he added.
UK-based Energy Saving Trust states the average cost of electricity per kw/h for UK households is about 14p.
Mr White accepted the move would cause Sark Electricity to incur "additional costs". He also urged the firm to move towards solar and wind power.
But David Gordon-Brown, the company's director, said the forced drop in prices would lead to "negative outcomes" for the island.
He accused island government, the Chief Pleas, of "continued attempts" to take control of the company, and branded the order an attempt to "bankrupt" the business.
"This continued pressure to force us out leaves the shareholders to consider whether it makes any sense to continue to operate the company in the face of unending hostility from our government," he said.
"We have been losing money all year and it is hard to see any justification to continue."