Battery blamed for Guernsey recycling site blaze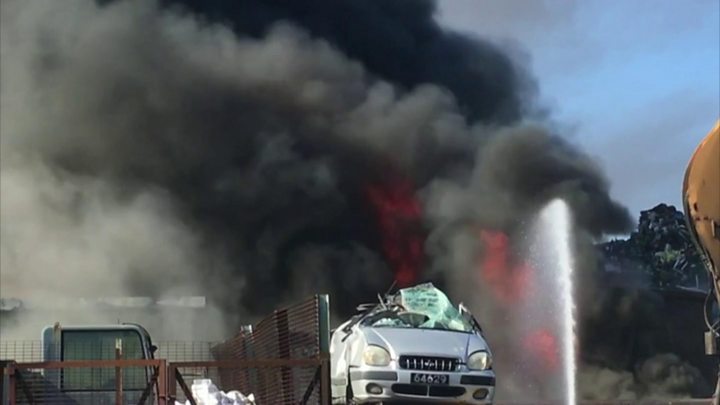 A "substantial" blaze which ripped through a recycling centre in the Channel Islands is thought to have been caused by a lithium battery.
Firefighters spent more than two hours bringing the flames at Guernsey Recycling in St Sampson under control.
A large plume of smoke could be seen more than 20 miles (32km) away in Jersey.
Scrap cars, plastics and metals were involved in the fire and police urged people to remain indoors.
More news from the Channel Islands.
The owner of the centre, Alan Crowe, said the lithium battery which may have caused the fire could have been mixed in with other recycling.
He said a "full investigation" would be carried out.
A fire service spokesman said: "Because of the type of materials stored here the fire took hold very quickly."
Guernsey Fire and Rescue Service worked with the Environment Agency, Guernsey Water and Guernsey Electricity to minimise the environmental impact of the blaze.
A spokesman said the priority was to protect the fuel tanks on the site to ensure they did not catch fire.
Guernsey's Office of Environmental Health said the smoke from the fire did not contain chemicals.
They advised anyone who lives in the area to stay inside and close all doors and windows while the smoke dissipates.
Guernsey Water said some "small debris" believed to be soot from the fire had landed in their reservoir, but had been dealt with.
"We can reassure islanders that there is no impact on the drinking water," said Margaret McGuinness, the water quality risk manager.
At midnight on Friday a fire service spokesman said the blaze had been extinguished, and crews had returned to the station to clean up their kit.
"We would like to thank everyone for their support, but would like to mention the staff at Guernsey Recycling who worked tirelessly alongside our crews to assist with moving the burning material."