Edward Heath 'not on island' for claimed abuse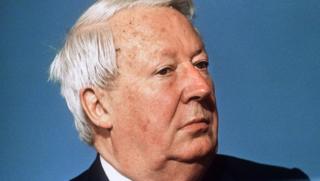 There is no evidence Sir Edward Heath was on Guernsey at the time of an alleged sexual assault in 1967, according to his supporters.
The accusation is one of seven that Wiltshire Police decided would have led to the former prime minister being interviewed under caution.
It relates to a claim that Sir Edward indecently assaulted a 15-year-old boy in a public building on Guernsey.
The issue is expected to be raised in the House of Lords on Thursday.
In a briefing handed to peers ahead of a debate on the role of police and crime commissioners, some of the allegations were described as a "near impossibility".
Supporters of Sir Edward said they looked at his diaries for the year, and Guernsey newspaper archives, but found no evidence he was there.
The document said: "We cannot identify a period in a crowded and fully documented diary when a visit to Guernsey might have been fitted in."
Wiltshire Police launched Operation Conifer in 2015 after Sir Edward was accused of historical child sex abuse.
The two-year investigation found he would have been interviewed under caution over seven claims, but detectives stressed no inference of guilt should be drawn from this.
The force has faced calls for an independent review into their handling of the investigation.
Lord Armstrong, who called for Thursday's debate, previously told the Lords that Sir Edward's "reputation has been under a cloud of suspicion" since 2015.
The briefing said the debate is an "opportunity to examine the decision of the Wiltshire Police and Crime Commissioner, Mr Angus Macpherson, MBE, to refuse a review of Operation Conifer by a retired judge".
Sir Edward died at home in Salisbury in July 2005, aged 89.