Alderney hosts first same-sex marriage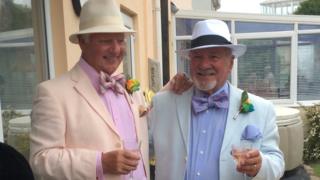 The Channel Island of Alderney has hosted its first same-sex marriage.
After 15 years together, Allen Jones and Dits Preece tied the knot at their home in Platte Saline on Saturday.
A change in the legislation was passed by the States of Alderney last year and signed off on Wednesday, which allowed same-sex couples to marry there.
The couple, who are both in their 70s, said the marriage "ties a lot of loose ends up" and they were looking forward to their honeymoon.
"We're having part of it in Royal Tunbridge Wells with friends of ours and then the other half we're celebrating with friends in Lanzarote at the end of this year," Allen added.
Their wedding rings have been made with the island's granite which the couple said was "special".
"We've incorporated the islands into our own personal life because it will be with us wherever we go," Allen said.
Although changes to existing legislation were approved by politicians in October, they were only signed off by the island's government on Wednesday.
As well as allowing same-sex marriage, the new laws also give equal rights to all married people regardless of their sex.
It also gives unmarried couples who live together the same rights regardless of their gender.
The official language used in the law itself has been changed too, replacing the words "husband and wife" with "spouse".
The island follows neighbouring Guernsey, where same-sex couples have been able to marry since May 2017.