No conflict found in Deputy Peter Ferbrache law firm payment probe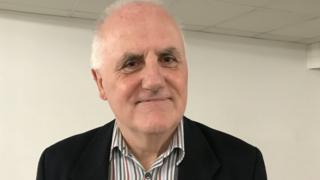 An investigation into £300,000 paid to a law firm by Guernsey's government found "no evidence" of a conflict of interest by a politician.
Deputy Peter Ferbrache stepped down from a senior position in November after the probe was launched.
The deputy said he had not profited from the payment to law firm Ferbrache and Farrell, where he is a consultant.
Guernsey's Internal Audit Unit said Mr Ferbrache had not breached any code of conduct rules.
The payment was made to the law firm for work it carried out for the Office of the Public Trustee.
The office's role is to preserve the interest of the beneficiaries of a trust.
It is overseen by the government's Committee for Economic Development (ED), which Mr Ferbrache was president of when the £300,000 was paid.
When the probe was launched in November the States' Policy and Resources Committee said the situation "could give rise to the perception of a potential conflict of interest".
But an internal audit concluded while it would have been "good practice" for the public trustee to seek a grant or loan from ED for the money, it was within their power to appoint the law firm.
The Internal Audit Unit's report found the appointment was "solely a matter for the public trustee".
"We found no evidence of a breach by the former president of the CfED of the Code of Conduct for Members of the States of Deliberation," the unit reported.
The current ED President, Deputy Charles Parkinson, said a "special review" would now be held around the governance of the Office of the Public Trustee.
Mr Ferbrache remains a backbench politician in the island's parliament.