Guy Hands: UK must learn from Guernsey's immigration woes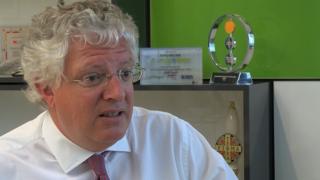 The negative impact of a restrictive immigration policy on the island of Guernsey provides a stark warning for the UK as it negotiates its exit from the EU, the investment tycoon Guy Hands has warned.
The founder of the private equity firm Terra Firma, who lives as a tax exile in the island, is warning that the British economy could suffer if it adopts the same "horrendous" immigration approach as Guernsey has.
Although he was given a warm welcome when he arrived from the UK eight years ago, Mr Hands says all newcomers, from senior business executives to low-paid essential workers, face a not-so-friendly greeting in 2017 - if they come at all.
The Channel Island's government is facing a backlash from employers experiencing a shortage of migrant workers after new a law was introduced in April.
More on this story, and other news from the Channel Islands
Mr Hands, a controversial figure who last year dropped a costly legal battle over his firm's takeover of EMI in 2007, says the island's policy has been too restrictive.
"Guernsey is probably two to three years ahead of the UK in that the concept of Guernsey closing the door, if you like, to immigrants from the EU particularly, sort of got attention," he says.
Under its new population policy, a permit system has curtailed immigrants' ability to build up residency rights - similar to plans recently revealed in a leaked UK Home Office document,
As a result, EU workers are leaving Guernsey due to a combination of the policy, a fall in the value of the pound, and uncertainty around their rights when Britain leaves the EU, Mr Hands says.
What is Guernsey's EU immigration approach?
Guernsey is not in the UK or an EU member, but is tied to the bloc under the UK's 1971 accession
Under Protocol 3, all European Economic Area (EEA) workers must be treated in a "non-discriminatory" manner, but are subject to an island law designed to control the population
The island is dependent on migrants to staff its horticulture, retail, cleaning and hospitality sectors
Guernsey also operates a two-tiered housing market that enables residency, typically for wealthy individuals who buy expensive properties
Non-EEA workers are subject to the UK's immigration policy
In 2015, the island removed a cap on its population, set at its 2007 level
In April 2017 a new population law came into effect, including a system of work permits placing a new five-year limit on how long some workers can stay in the island
Many of Guernsey's politicians have admitted some restrictions on migrant workers should be removed after criticism of a new five-year working limit.
"When you start introducing variation and you don't quite know where you are and you don't trust [the system], people lose confidence very quickly," Mr Hands says.
Curtailing the ability of migrants to settle and build their lives will lead to migrants from poorer backgrounds being the only ones willing to accept jobs offering less money and stability, he says.
"So the only people you are going to get are the less-skilled hired gun, and hired guns don't build an economy."
UK firms reliant on EU workers have also warned of the "catastrophic" impact of any plans to slash unskilled migration on the day Britain leaves the EU.
The Home Office insists any future immigration system will "work in the best interests of the whole of the UK".
A spokesman said an independent committee had been set up to assess the "economic and social impact" EU citizens make in all parts of the UK.
"We are carefully considering the options for the future immigration system and will set out our plans later this year," the spokesman said.
Who is Guy Hands?
Oxford graduate with an MA in Politics, Philosophy and Economics
Friends have suggested his dyslexia has driven his success
Started his career with Goldman Sachs, where he became head of its global asset structuring group
Founded Private Equity company Terra Firma in 2002, a spin-off from a previous investment firm
Since 1994 Mr Hands has overseen the investment of more than £14bn in 33 businesses
Moved to Guernsey in 2009, reportedly to escape a 50% tax for high earners
Married with four children. His wife, Julia, runs UK chain Handpicked Hotels
EU workers make up the bulk of staff in Guernsey's hotel, restaurants and cleaning companies.
Hotelier Simon Vermeulen says 30 of his 50-strong workforce have left this year, an unprecedented turnover and a "direct" result of the government's population law.
The five-year "hard stop," as Mr Vermeulen calls it, has seen the "effective deportation" of skilled workers who know regular customers and can speak fluent English, he says.
The minister responsible said uncertainty around future EU workers' rights and the low value of the pound had contributed to the shortage.
Home Affairs Minister Mary Lowe has, however, agreed to relax some restrictions introduced in April, but politicians may go even further when they debate changes to the law later this month.
'I didn't want to leave'
Alin Sandu, 30, worked in Guernsey for five years before having to return to his native Romania in September.
During that time he worked as a waiter, kitchen porter and bartender at a number of restaurants popular with tourists.
Despite his employer wanting to keep him on, Alin had to leave because he had worked for five years in total.
Under the population law, introduced in April 2017, he was unable to stay any longer owing to the type of employment permit he worked on.
Alin says he didn't want to leave, and if possible he would like to return to Guernsey to work.
Although he is certain Brexit has harmed his investments both in the UK and in Guernsey, and despite his fears over future UK immigration policy, Mr Hands believes leaving the EU will provide opportunities for him in the long term, as more "distressed" firms can be bought at lower prices.
But in the short term there have been issues for Terra Firma, which owns a stake in the debt-laden elderly care provider Four Seasons Health Care, the UK's largest independent care group.
Critics of the private equity industry point to deals like this, and others, which can load companies with excess debt due to the financing of the initial takeover.
Mr Hands says Four Seasons also faces a 12% hike in the price of paying skilled nurses - EU nurse applications have dropped by 96% since the Brexit vote.
"In the same way that you see in the the hospitality industry in Guernsey, and in teaching and nursing, people just aren't coming who have high levels of skills.
"So you're forced to take people with less levels of skills, and often have to pay them more money as well.
"It's been borne out even more extremely than I could ever have imagined," he said.
The restrictive approach to immigration in Guernsey which has been in evidence for several years, is one of the factors in the economy struggling, Mr Hands says.
Until 2015 the island's government had a policy of capping the population at the 2007 level, with many local politicians arguing too many people would put a strain on island resources and infrastructure.
Economic growth has flatlined, with minimal GDP rises since 2013. House prices have fallen 5% in two years, and wages are failing to keep pace with inflation.
Guernsey's 62,000 population has also now stagnated, with more people leaving the island than arriving since 2014.
Mr Hands accepts both Guernsey and the UK cannot allow uncontrolled levels of immigration, an extreme he sees as equally unpleasant as Guernsey's "guest worker" system.
He would like to see the island adopt a more encouraging approach which gives young, economically active migrants a route to residency, pointing to New Zealand's and Canada's schemes.
Neighbouring Jersey's less restrictive approach to immigration can also provide another lesson for the UK government, according to Mr Hands.
"The image they are giving is of being welcoming, and their approach is 'we want people who would build their lives here'.
"It's not just at the lower-paid level, it's also at the very high-level paid, and indeed at the level who bring economic businesses to Jersey," he says.
The island's population has grown by 3% in the three years to 2016, with net migration of more than 1,000 people each year.
Jersey's economy has also grown over the past three years, house prices continue to rise, and the average property is nearly £60,000 more expensive than in Guernsey.
Jersey's politicians are now considering how to deal with a population increase after relaxing immigration restrictions in recent years, while Guernsey's government is edging towards reversing the restrictions it imposed less than a year ago - something Mr Hands wholeheartedly endorses.
He's hoping for "a vote for common sense," from island politicians who will consider changes to the immigration rules on 29 November.
And he's not the only one watching eagerly.
In Romania, Alin Sandu is still hopeful he might be able to return to work.
"I didn't feel very good about having to leave, but it's not up to me," he said.
"Guernsey is a great place to live, not very cheap, but it's a beautiful place with great people."