Mother of newborn baby given drugs 'without consent'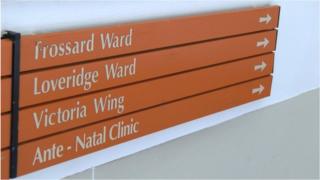 The mother of a newborn baby that died shortly after birth was not consulted before being given drugs to induce labour, a tribunal heard.
The child - referred to as Baby A - was born in Guernsey on 30 January 2014 but died hours later.
Three midwives face misconduct charges relating to the death of baby A.
Appearing via video link, the mother said: "I was administered Syntocinon without a doctor's referral, without a prescription, and without consent."
Midwives should only take the decision to administer the drug, which is used to facilitate childbirth, after a baby is safely born to help deliver the placenta.
Any move to use it before birth should be referred to a consultant.
Lisa Granville, Antonia Manousaki and Tuija Roussel all worked on the Loveridge Ward at Princess Elizabeth Hospital in Guernsey when baby A died.
A subsequent investigation revealed concerns about a similar case of another child, referred to only as baby B, who died in September 2012.
Risks of drug
The Nursing and Midwifery Council (NMC) claim that had the death of baby B been adequately investigated, the death of baby A "may have been prevented".
The mother told the NMC hearing: "At no point did the midwives seek my consent for the drug.
"At no point did they explain to me the risks of this drug, to me or my son."
The baby's father also told the panel the drug was given without consent.
He said: "There was no discussion of Syntocinon, there was no informed discussion for us to provide consent, let alone informed consent."
The tribunal has heard that the midwives should not have administered the drug in the later stages of labour without speaking to a consultant.
The practice of midwives acting on their own initiative has been described as part of a culture known as 'The Guernsey Way'.
The hearing, which is expected to last four weeks, continues.