Midwife initially claimed 'very good' care in baby death case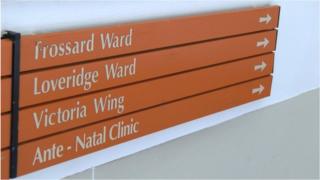 A senior midwife accused of misconduct in the death of a newborn baby initially claimed the care provided had been "very good", a tribunal heard.
The child - referred to as Baby A - was born just after midnight on 30 January 2014 but died hours later.
The Nursing and Midwifery Council (NMC) said Lisa Granville's initial assessment "flavoured" the subsequent investigation.
Three midwives face misconduct charges relating to the death of Baby A.
Ms Granville, Antonia Manousaki and Tuija Roussel all worked on the Loveridge Ward at Princess Elizabeth Hospital in Guernsey when Baby A died.
Reopened and examined
Debbie Pittman, service manager for child health services at Guernsey's Health Department, conducted an investigation after the death of Baby A.
Ms Pittman said Ms Granville told her she had investigated the incident and had spoken to another investigator and that there were "no concerns".
"When we then received the post-mortem report, there were concerns raised about it by one of the other midwives, who had expressed concerns about midwifery care right from the beginning,' Ms Pittman said.
The case was then reopened and examined again.
The investigation revealed concerns about a similar case of another child - referred to only as Baby B - who died in September 2012.
The NMC claim that, had the death of Baby B been adequately investigated, the death of Baby A "may have been prevented".
Admits inadequate investigation
Ms Granville admits failing to identify inadequate midwifery care in relation to the administration of the drug Syntocinon and management of a trace on the heart-rate scan.
She also admits her investigation into the death of Baby A was inadequate, but denies all other charges.
Ms Manousaki admits administering Syntocinon without a written prescription but denies failing to challenge a culture of midwives acting outside the scope of their practice.
Ms Roussel admits administering Syntocinon without a written prescription and participating in inappropriate working practices.
The hearing continues.