Guernsey hospital second baby death 'preventable'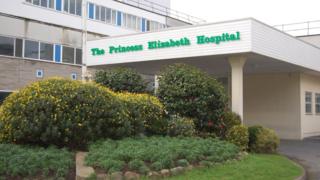 A newborn baby's death may have been prevented if a previous death on a maternity ward had been properly investigated, it has been claimed.
Midwife Lisa Granville is charged with carrying out an inadequate investigation into the death of a baby at a Guernsey hospital in 2012.
Fellow midwives, Tuija Roussel and Antonia Manousaki, also face misconduct charges.
The Nursing and Midwifery Council (NMC) in London is hearing the case.
More on the nurses hearing, plus more Channel Islands news
It heard Ms Granville had carried out a review of the death of a baby at the Princess Elizabeth Hospital which was "inappropriately closed on the basis of a brief examination".
But it was discovered the baby's heartbeat had not been properly monitored and the child's condition should have been reported to a consultant.
Katherine Higgins, for the NMC, said the death of a second baby at the hospital in 2014 from similar causes may have been prevented had the death of the first baby been adequately investigated.
Ms Granville is charged with failing to identify, or causing to be investigated, the inadequate standard of midwifery care delivered to the first baby.
Ms Manousaki admits administering a drug Syntocinon - used to ease childbirth - without a written prescription but denies failing to challenge a culture of midwives acting outside the scope of their practice.
Ms Roussel admits administering Syntocinon without a written prescription and participating in inappropriate working practices.
The case continues.