Steven Corbet: Body found by children confirmed as missing man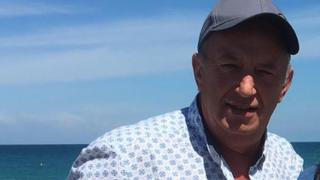 The body of a man found by children has been identified as missing man Steven Corbet.
The 59-year-old was last seen on 27 June 2016, the day he was released from police custody after being held overnight.
His body was found on Christmas Eve near the pine forest in Guernsey.
Mr Corbet was identified by the serial number on the knee replacement he received in 2012.
An inquest into his death opened at Guernsey's Magistrate Court and heard Mr Corbet was last seen in St Peter Port purchasing a rucksack, mobile phone, two bottles of vodka and a craft knife.
'A scarecrow'
The court was told: "In late November 2016 a group of young children playing in the area saw what they thought was a leg protruding from some overgrowth.
"On Thursday 22 December the children returned to the area and found what they believed to be a skull but their mother thought it was a scarecrow.
"One of the children later spoke with his father who went to the area with his son, his son's friend and his father, and the police were contacted."
The "severely decomposed" body was found in thick undergrowth at Pleinmont.
Officers carried out a "methodical examination" of the area where he was eventually found including the use of dogs and drones.
Police went on to say that "no search technique offers 100% chance of success" and that the winter conditions had reduced the vegetation making it more accessible.
A cause of death is yet to be determined. His body was released for burial and the inquest will resume once toxicology reports are completed.