Alderney votes for change in General Election.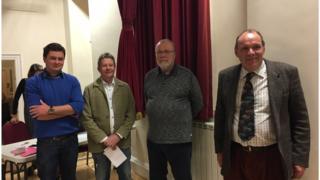 There's been a high turnout in the polls in Alderney's General Election with people voting for change.
Only one of the current States members was re-elected in the elections on Saturday.
Thirteen candidates fought for five seats and four new faces were successful - James Dent, Alex Snowdon, Mike Dean, and Tony Barnes.
A total of 69% of people, which is a total of 943 islanders. voted in the election.
Newcomer James Dent who works as a transport economist topped the poll with 624 votes.
The four newcomers displaced Neil Harvey, Chris Rowley and Francis Simonet, with Robert McDowall opting not to stand for re-election.
Louis Jean, who has represented the island in the States of Guernsey for the last two years, was re-elected.
He said the results highlight a dissatisfaction among islanders: "The people want their government to reform.
"They want open and honest government and that's a clear message."
Returning officer and Chief Executive of the States of Alderney Victor Brownlees said he was pleased with the 69% turnout: "I think it's fair to say this is a particularly engaged election."