Former Guernsey FC chairman Steve Dewsnip cleared of fondling waitress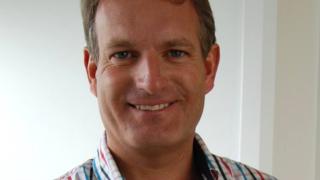 The founder and former chairman of Guernsey FC has been cleared of fondling a waitress at Wembley Stadium after a football international.
The jury at Harrow Crown Court took 30 minutes to reach a unanimous not guilty verdict on one count of sexual assault.
Steve Dewsnip, 49, told the court the suggestion was "totally beyond belief".
The woman claimed he had pulled her towards him and fondled her bottom after England's Euro qualifier against Switzerland.
Mr Dewsnip said the allegation emerged after he made numerous complaints about the standard of hospitality to one of the suite's supervisors, Thomas Duffy, who had supported the waitress' account.
His lawyer John Cooper QC told the jury: "They've put their heads together on this. They've decided, because of long-running problems... to take this chance to get rid of him, to give him a bloody nose."
Mr Cooper said it would have been "personal, professional and reputational suicide" if Mr Dewsnip had touched the woman.
Mr Dewsnip's business guest that night - Christopher Coleridge-Cole - spoke in his defence.
He estimated the pair consumed two bottles of wine between them during the course of the evening and recalled an issue between his friend and manager Thomas Duffy.
Mr Coleridge-Cole said: "There was clearly some kind of altercation between Steve and this chap. (Steve) made a comment that he was fed up with the bloke. It must have been the service, I don't know.
"I was utterly dumbfounded when Steve told me about this, so surprised. It is not his nature to be coarse, rude, vulgar.
"When I left him he was as sober as a judge."
Speaking after the case, Mr Dewsnip said: "I have the utmost respect for women and would never dream of behaving in the way portrayed in court.
"This has been a terrible ordeal for me, my partner, family and friends.
"I am thankful that my good name has now been restored and that I can now get on with my life."