Granite stone to mark Guernsey's WW1 fallen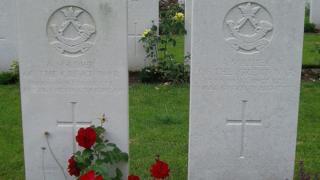 A stone will be laid in France next year to mark the "blackest day" in Guernsey's history - 30 November 1917.
More than 80 islanders died in a single day in the World War One Battle of Cambrai.
To mark the 100th anniversary, a piece of inscribed Guernsey granite will be unveiled at the site of the losses - the French town of Masnieres.
Historian Chris Oliver, one of those behind the move, said "almost every family in Guernsey" was affected.
More on the memorial and other Guernsey stories
After the British advance during the battle, the Royal Guernsey Light Infantry held the line at Masnieres for three days.
Mr Oliver said: "Against terrible losses they managed to hold a bulge in the line, literally while the other British regiments had pulled back."
Nearly 600 men, about 40% of the regiment, were reported killed, injured or missing during the battle.
Battle of Cambrai
First mass tank battle as the British attempted to break through the Hindenburg Line
Launched on 20 November and involved 476 tanks, 378 in a combat role
The British advanced rapidly on the first day but more than half of the tanks were out of action
The German counter attack led to intense fighting and the British retreated to be left with only small gains
The battle had little strategic impact on the fighting on the Western Front
However, the tactical combination of tanks, artillery and infantry were the start of a change in warfare
When the battle ended on 7 December both sides had lost about 45,000 soldiers
Russell Doherty, from the Guernsey Military History Company, said it was "the blackest day in the island's history".
He said: "It put the island on the map the same way Gallipoli did for the Australians. They celebrate the anniversary of the battle as their national day, ANZAC day.
"If it wasn't for the occupation during World War Two, we'd possibly be doing something similar in Guernsey."
Mr Oliver said: "The impact to the island wasn't just those three days... it went on for years and years afterwards."
He said the memorial stone, due to be unveiled on 30 November 2017, would be put in the middle of Rue Verte in Masnieres.
Mr Oliver said: "There are still a number of Guernsey men who lie there undiscovered.
"Knowing we couldn't bring them home, I thought it was really poignant to take a piece of Guernsey to them."