Guernsey budget approved for 2017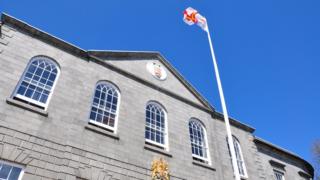 Property taxes will increase and high earners will lose their tax allowances as Guernsey's politicians have approved next year's budget.
The States of Deliberation spent more than a day debating spending plans for 2017.
A call to reintroduce motor tax was defeated, while a move to introduce legal and accounting taxes was dropped.
But a proposition to remove the higher tax allowance for pensioners by 2019 was rejected.
Guernsey's most senior politician, Deputy Gavin St Pier, said - had the proposal passed - it would have saved the island millions of pounds in years to come.
"Our estimate is that over the first 10 years in which new claims are added, that would amount £1.5m to £2m saved per year.
"We just simply believe that that could be better used in more effective targeting of benefits."
---
Guernsey Budget headlines
3.4% increase in personal tax allowances for those aged under 65- £10,000 for a single person
Reduced or no allowance for those earning more than £138,000
TRP (property tax) to rise for both commercial and domestic properties, 5% and 10.5% respectively
Document duty to be graduated - saving about £2,000 on the sale of an average property at £435,000
Further money will be needed to offset Aurigny's ongoing losses
States commercial arms to be tasked with contributing £5m a year to revenue
The following changes are already in effect:
Motor fuel duty rises by 5p to 63.5p per litre
Marine fuel duty rises by 3.8p to 40.4p per litre
Cigarette duty rises by 5.6% and 8.1% for other tobacco products - so a pack of 20 would be £4.64 duty
Rises in alcohol duty making it 42.6p per pint of medium strength beer or cider or £12.74 on a litre of spirits
---