Guernsey WW1 French soldiers remembered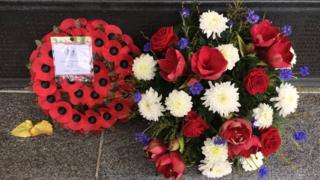 A wreath has been laid to remember Guernsey residents who died fighting in the French army during World War One.
The role of Frenchmen living in the island who were called up to serve is not widely known.
Recently local historians have started to look at the subject and found 257 French residents of the Bailiwick who died fighting for France.
The service also remembered all those killed during the Battle of Verdun - the longest battle of the war.
More on the memorial and other Channel Island stories
Russell Doherty, from the Military History Company, said: "The contribution of the French residents is very much forgotten.
"In 1914 as soon as the war started the French government sent boats from St Malo and we're led to believe that in the first week of the war 240 male French residents of Guernsey left on these boats and went to fight in the French army.
"Sadly we know within the first couple of weeks in the Battle of Aisne and the Battle of the Marne some of these men were killed."
Battle of Verdun
The longest battle of the war lasting 300 days
It left an estimated 800,000 soldiers dead, wounded or missing
Verdun has long been a key defensive point for France, turning back armies including the hordes of Attila the Hun
General Erich von Falkenhayn, chief of the general staff, wanted to use the sentimental value attached to the town to drain the French army of resources
However, he ended up using more troops than he planned as the battle became one of pride for both sides
The Germans withdrew because they could not afford to continue losing troops needed elsewhere
Source: BBC iWonder guide to the Battle of Verdun
Guernsey residents who died during the battle:
Cpl Francois Lecourt, 130th Regiment of Infantry, died 30 July 1916 aged 26
Sgt Henri Loret, 166th Regiment of Infantry, died 28 February 1916 aged 24
Canonier Anatole Philippe, 123rd battery of the French field artillery, 18 May 1916 aged 21
Victor Bamuel, 306th Regiment of Infantry, died 22 April 1916 aged 27
The islanders called up were all reservists having done national service.
Mr Doherty said: "This is the reason why France and Germany, at the start of the Great War, could mass armies of millions very, very quickly, because they had reservists.
"We didn't have a system like that in Great Britain, we struggled to put together an army of 200,000."