Guernsey 11-plus to be debated again by States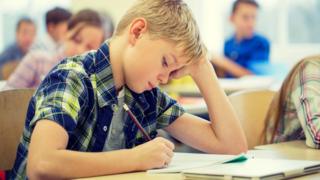 The scrapping of the 11-plus tests could be overturned or delayed under plans revealed by Guernsey's Education, Sport and Culture Committee.
It has called for selection at 11 to remain or the move to a non-selective system to happen two years later than planned - in 2021 rather than 2019.
The committee hopes the issue will be debated by the States in November.
"The new assembly should be given the opportunity to rescind or to endorse the decision," said its president.
More on the 11-plus debate, and other Guernsey news
What the States agreed in March
The 11-plus will stop in 2019 and be replaced by non-selective admission
Places in States' secondary schools will be based predominantly on a feeder system from primary schools
Something will replace the 11-plus system for awarding places for the three grant-aided colleges
To defer a decision on refurbishing La Mare de Carteret primary and high schools
A further report to look at the options for closing one of the States-run secondary schools
Deputy Paul Le Pelley said: "The committee is split over whether academic selection at 11 in the Bailiwick should continue in the long-term.
"We are simply asking the assembly to decide whether we have a selective or non-selective education system.
"Once the direction on academic selection at 11 has been determined, we will work on what this means for the future of the education estate."
The committee has suggested if selection is to be phased out than more time is needed to plan for the changes.