Guernsey Dairy work follows poor hygiene rating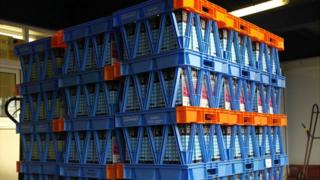 Up to £500,000 will be spent on improving the Guernsey's Dairy over the next two years.
Work starts this week to put right issues raised in an Environmental Health inspection when the facility received two out of five stars.
Inspectors and the dairy have said milk and other products are all safe and the work should not affect production.
However, there is a warning that more money may need to be spent on the facility in the future.
Richard Evans, head of corporate services at States Trading Assets, said the plan will look forward to the next five plus years: "What the future might look like in either keeping this building going or drawing a line in the sand at some point and saying 'right we've spent enough on the building now we'll have to look at building a new one' - the plan we're coming up with is going to take all of that into consideration."
He said of the current work: "It is quite a juggle, particularly in some of the areas where we're looking at things like walls and floors, so a lot of planning so gone into how we manage that and the work can be scheduled... some of it may be happening over weekends for instance."