Debt-hit Guernsey Aurigny airline to post £4.6m losses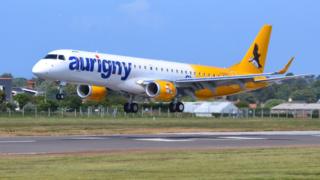 Guernsey's Aurigny airline is set to make losses of £4.6m this year despite having 15 years of debts written off, politicians have warned.
The government-owned company was expected to make a £1.5m loss in 2016 and 2017.
Rising maintenance costs of £1.4m were partially to blame for a £3.1m overspend, according to the States' latest set of accounts.
The airline said it will need to raise fares if they are to break even
Guernsey Deputy Gavin St Pier described the figures as "clearly disappointing".
"They have deteriorated so significantly and so quickly from those which were presented to the States really quite recently," he said.
The president of the policy and resources committee added Aurigny was a small operation and "it doesn't take much to blow them off course".
Aurigny finances
£19.9m
Losses to the end of 2014
£2.55m Loss in 2015, above predicted loss of £2.3m

£4.6m Expected loss in 2016, above predicted loss of £1.5m

£4-5m Losses expected annually for 2017-2019
Guernsey's government announced in November it would repay the airline's 15 years of debt - totalling £19.9m - in full.
The deal covered the deficit accumulated between 2003 and 2014 and a further £5.3m set aside to cover expected losses up to 2017.
The former Treasury and Resources Department, which had its responsibilities absorbed by the committee in April, had expected the firm to return to profit in 2018.
Mr St Pier said: "The reality is Aurigny is a subscale operation operating a mixed fleet with a limited network, it would not be commercially viable in almost any other circumstances.
"It is a small operation having to cope with a significant number of challenged and only a slight variation from plan can have a significant effect on the bottom line and that's exactly what we've seen."
He said a review into the role of Aurigny in the Bailiwick was key to deciding its role in "economic, social, sporting life" and to determine the right level of government support.
In addition to rising maintenance costs, the accounts found other factors included lower than expected revenue from flights, one-off costs, and disruption costs.
Aurigny chief executive Mark Darby said the £4.6m loss expected this year is due to maintenance costs, one-off incidents, and currency losses arising from Britain's vote to leave the EU.