Guernsey health and education sites going smoke-free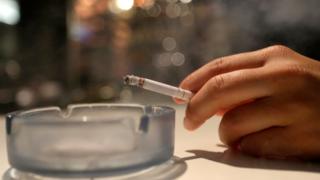 Smoking at health and education facilities on Guernsey has been banned from today.
Currently smoking on such sites is allowed in designated areas or shelters, which will be removed.
The ban includes all sites owned or managed by the two departments, including car parks.
The move is part of the Guernsey and Alderney Tobacco Control Strategy which aims to reduce the impact of smoking.
Medical Officer of Health Dr Stephen Bridgman said: "It's known from other places that this does encourage people to give up smoking.
"Its an important step for the States to take."
Guernsey and smoking
2006 - Guernsey became the first place in the British Isles to introduce a smoking ban for enclosed public spaces
2010 - Alderney bans smoking in public places
2011 - Smoking banned at Guernsey's hospitals, except in existing smoking shelters
2011 - Prison visitors are banned from smoking inside the building
2012 - Graphic picture warnings have to be shown on tobacco products
2013 - Guernsey Prison goes smoke-free
2015 - Ban on tobacco vending machines and the display of tobacco for sale