Wasp attack leaves school boy in hospital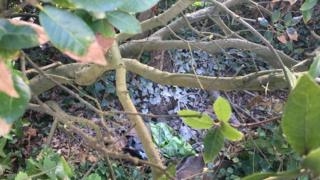 A wasp attack left a Guernsey school child in hospital having been stung more than 20 times.
Five-year-old Isaac Woodhead was attacked by "50 to 100" insects while walking next to a public path in St Peter Port.
Onlookers helped him out of his clothes and he was rushed to the Princess Elizabeth Hospital.
The Education Department says States Property Services were informed, and the problem is being dealt with.
More on the attack, and other stories from Guernsey
Isaac's father David said: "He was in a huge amount of distress, it was really awful to see the amount of pain he was in.
"He had red blotches, particularly on his ankles, up his legs, on his buttocks and up his arms, but it was clear that there wasn't an allergic reaction."
After receiving medical attention, Isaac was discharged from hospital.