Guernsey school closure plan 'could be scrapped' after review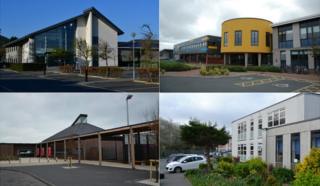 Plans to scrap the 11-plus and close a school could be overturned, the Guernsey education committee has confirmed.
Politicians voted for the move in March but the new committee, elected in April, wants to review the plans.
Committee president Deputy Paul le Pelly wants to ask the current States Assembly to debate the issue.
He said once the assembly made a decision the committee would "implement the policy without further delay".
In a statement, the committee confirmed it would be presenting a policy letter to the States at the November meeting which would ask members to either standby the decisions made earlier in March or restart the debate altogether.
The original decision in March meant the 11-plus would stop in 2019 and be replaced by non-selective admission.
If members do not feel that is the right approach, then that will be overturned and a new policy introduced.
Guernsey's most senior politician, Deputy Gavin St Pier, said: "Irrespective of any personal views on the underlying policy issues, the Policy and Resources Committee wholeheartedly endorses the need for this matter to be debated by the States as soon as possible."