Regulator challenges airline franchise agreement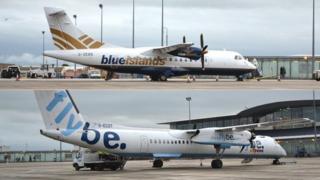 Two airlines have been asked how their agreement benefits passengers by the competition regulator.
In an open letter, the Channel Islands Competition and Regulatory Authorities (CICRA) asks Flybe and Blue Islands about issues over cost and punctuality.
The body said it is aware of concerns that have been expressed "from a number of sources".
Flybe says it has received the letter and will respond "in due course".
Over the past few months, some passengers have been critical of the new deal which sees rebranded Blue Islands aircraft operate Flybe flights.
Complaints on social media have referenced the reliability and service provided.
The regulator has also challenged Flybe and Blue Islands to demonstrate they are "totally committed to the Channel Islands" by working with passengers to improve the service.