Injured Guernsey turtle Olivia released in Gran Canaria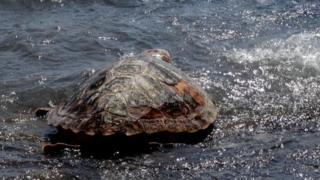 A loggerhead turtle that rescuers feared would die after it was found on a Guernsey beach has been released back into the wild.
Olivia was emaciated, severely dehydrated and had lost a front flipper, probably from a propeller injury, when she was found in March.
Now, the turtle has been released into warmer seas off Gran Canaria.
The Guernsey Society for Prevention of Cruelty to Animals (GSPCA) said it was a "joy" to help it back to health.
Olivia was released by the team from Centro de Recuperación de Fauna Silvestre an the south east of Gran Canaria on a beach called Playa El Burrero.
The release came after a rehabilitation process in Gran Canaria over the last month.
GSPCA manager Steve Byrne said the turtle would "surely have died" if not for its help.
"All the team at the GSPCA are overjoyed to see her back in the warm waters where she belongs and we all wish her well and we all hope she has a long and productive life helping the species," he said.
"Her care has been a testament to the caring and loving nature of the Guernsey community."
Loggerhead Turtles
Common name: Loggerhead - named for its exceptionally large head.
Scientific name: Caretta caretta
Size/weight/age: The Loggerhead measures up to 1.1m (3.5ft) long when fully grown, weighing approximately 135 kg (300lb). It has a lifespan of 47-67 years.
Diet: The Loggerhead turtle is omnivorous, but it feeds mainly on bottom dwelling invertebrates - molluscs, crustaceans, horseshoe crabs, clams, mussels and other marine animals. Its large and powerful jaws serve as a very effective tool in dismantling its prey.
Habitat: Prefers to feed in coastal bays and estuaries, as well as in the shallow water along the continental shelves of the Atlantic, Pacific and Indian oceans.
"She was so weak, dehydrated and emaciated. She could not even raise her head," he said.
The turtle was cared for at the Centro de Recuperacion de Fauna Silvestre in Las Palmas.
The last time a turtle was found in Guernsey's waters and returned to the wild was in 2003, when Myrtle the green turtle was also sent to Gran Canaria.