Guernsey marks Battle of the Somme centenary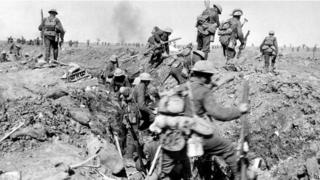 The one hundredth anniversary of the Battle of the Somme is being commemorated in Guernsey.
The World War I battle in 1916 resulted in a million British, German and French casualties, including 97 Guernseymen serving with Irish regiments.
The Guernsey Military History Company, dressed in World War I uniforms, have set up a camp and field kitchen in St Peter Port's Candie Gardens.
Also on display are 1,500 poppies, one for each Guernsey man who died.
During World War I, men from the island fought in units of the British Army, Canadian and Australian regiments, with many enlisting in the 6th Battalion Royal Irish Regiment who were sent into the Somme battle on 3 September 1916.
In 2003, the graves of Guernseymen killed in the Somme were saved after the French government shelved its plans to build a third Paris airport, which would have meant exhuming the remains and bulldozing the graves to make way for new runways.