Guernsey Dairy could face closure over poor hygiene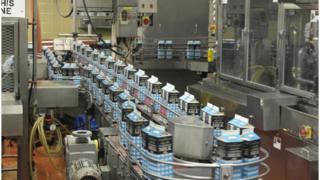 Guernsey Dairy has been given a hygiene rating of two out of five and could be forced to close unless it improves, it has emerged.
The States, which owns the dairy, said it was working to improve and insisted all its products were safe.
Most Guernsey restaurants have a five rating according to States figures.
The States said the low rating came from problems with the dairy building which has inadequate ventilation and is more than 60 years old.
The dairy has been given until October to sort out the problems because any property rated below three is at danger of being closed said the States.
The States said in a statement that the Dairy Management Board had agreed an "action plan" that will address all of the issues.
"These relate primarily to the condition of tiled walls and floors in some areas, as well as adequate ventilation to prevent condensation and mould," it said.
Richard Evans, head of corporate services at States Trading Assets said: "We are confident that the planned improvements will result in an increase in the dairy's hygiene star rating at the next inspection in 2017."