Rescued seal pup dies from injuries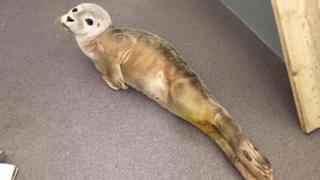 A seal pup found with a number of injuries off Alderney and flown to Guernsey for treatment has died.
The common seal was rescued by the Alderney Wildlife Trust on 24 August after it was reported near Platte Saline.
Steve Byrne, Guernsey animal shelter manager, said the pup, named Rio, was the "weakest seal pup" to be rescued in the islands.
He said staff were "devastated" after "battling to keep her alive".
Mr Byrne said Rio was "extremely weak, dehydrated and had a number of injuries".
"When she arrived from Alderney last week she could hardly move and despite showing some signs of improvement she passed away this morning." he said.